Adam Burke at the Queensland University of Technology lead-authored a paper "State Snapshot Process Discovery on Career Paths of Qing Dynasty Civil Servants" that introduces a new process mining technique he calls 'state snapshot process discovery' and illustrates it by application to our CGED-Q JSL data on the careers of jinshi officials. Cameron Campbell is a co-author. The paper has been accepted for presentation at the 5th International Conference on Process Mining (ICPM2023), in Rome, Italy, in October 2023.
A pre-print of the paper is available at Adam's website: https://adamburkeware.net/papers/burke_et_al_state_snap_qing_icpm2023.pdf
Here is a figure from the paper that summarizes the empirical reconstruction of the careers of first and second tier (一甲 and 二甲) jinshi in the years after they earned their degree. One of the attractions of the CGED-Q JSL for demonstrating this technique was that there were canonical career pathways specified by regulations for such high-ranked degree holders, thus it was possible to assess whether the empirical results derived from the data were consistent with the canonical career pathways. We hope that extensions of this technique, and possibly other techniques, can be used to explore the trajectories of officials with more mundane qualifications.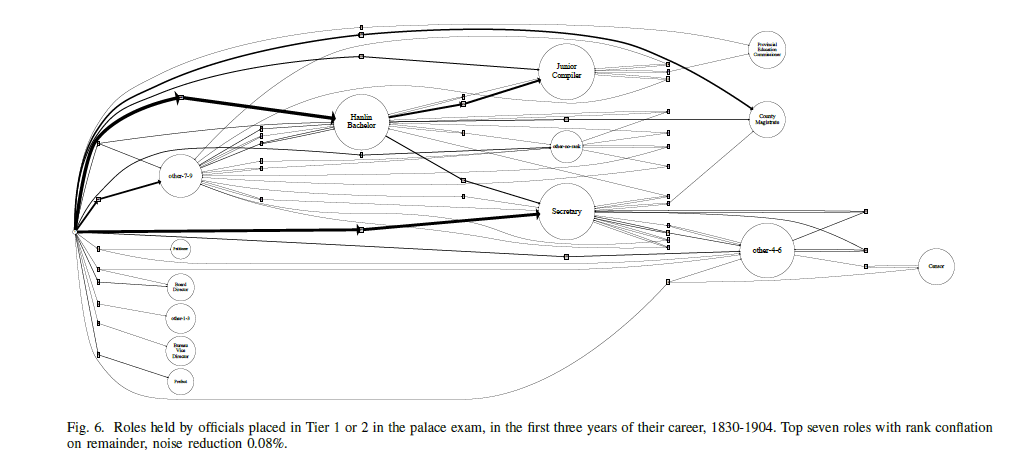 For this paper, Cameron Campbell helped Adam and the other collaborators (Sander Leemans and Moe T. Wynn) understand the data that we provided, and advise on adjustments to accommodate undocumented or otherwise unanticipated features of the data in successive iterations, and then assist in the writing of sections related to the data and the historical context, background on the social science studies of careers, the interpretation of the results.
We are happy to collaborate with computer scientists and other researchers developing techniques for understanding careers and trajectories more generally in complex longitudinal data, who need data like the CGED-Q to showcase their approaches.